Melanie Martinez REAL hand SIGNED Cry Baby Vinyl Record JSA COA Autographed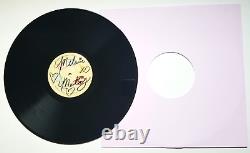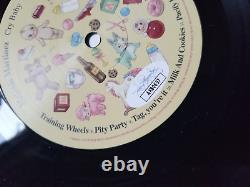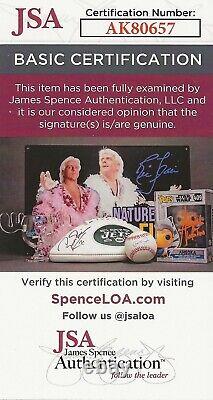 This is an amazing copy of the Cry Baby Vinyl and inner sleeve (no cover) signed by singer Melanie Martinez. Martinez rose to fame in 2012 after appearing on the American television vocal talent show The Voice. Following the show, she released her debut single "Dollhouse", followed by her debut EP of the same name, through Atlantic Records.
She has signed this item on the vinyl itself boldly in black sharpie after her show at The Trocadero in Philadelphia on 3/26/16, at her paid Meet-n-Greet. Even at the after-show event, her autograph was difficult to obtain.
She drew a heart and added XO. Item is in great condition. Comes with the JSA COA #AK80657 Included with the Basic Cert program is a 3" x 5" James Spence Authentication registration card (see scan) printed with a unique certification number corresponding to the alpha-numeric tamper evident label.
Each certification number is uploaded into our exclusive database for 24-hour customer verification access. All Basic Cert cards are fully transferable without resubmission. Please add me to your favorites!!! Welcome to Lifetime Of Autographs, LLC, the place to go for your authentic hand signed memorabilia. I have been dealing in authentic autographs for 20 years.
Because our signatures will leave you with no question on authenticity and they are real. There are no pre-prints, no secretarial signed, no "stock photo" autographs... The autographed item you get will ALWAYS be the exact item in the scan, no surprises. As I add listings daily, you never know just what I will have to offer. You will want to check back every couple days!
These signatures have been personally collected through decades of research, hard work, and patience by myself, or by a small group of professionals whom I employ and collect with. My vast knowledge of autographs proves that experience is most important in this hobby. If the item has yet to be authenticated, it will come with my personal and well respected COA. You will not see meaningless COA's from random people, nor photos called proof that are anything but. Don't believe that just because someone has a photo of someone signing or a photo with a celebrity that the autographs they sell are real.
Event photos may be shown for added assurance. If you do, I will be willing to price match on Fixed Price listings.
The selection of signatures I will be offering is so vast and unique. You will be seeing musicians from every genre of music, actors, models, political names, artists, inventors, businessmen, sports heroes, porn stars, heroes, the infamous, etc.
You just never know whose autograph you may find as I have 1000's of certified authentic signatures to list. Items that have not been professionally authenticated have been acquired in person. While my goal with Lifetime of Autographs is to have most autographs authenticated, it is a very expensive process and not always available for newer celebrities/bands. I stand by my autographs 100% for the life of the item.
For the life of the item. My autographs are real and have been acquired through research and years of traveling.
Great care will be taken in packaging your winning item as these items are 1-of-a-kind! After that, we both just need to wait it out and be patient.