BRYAN FERRY ORCHESTRA The Jazz Age 6 vinyl 10 discs LP SIGNED autographed Roxy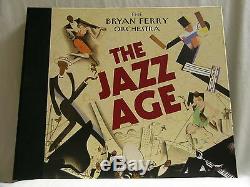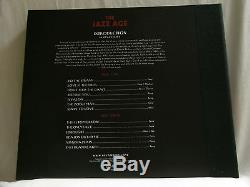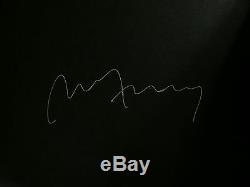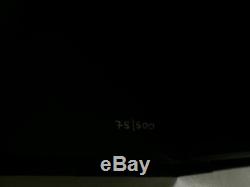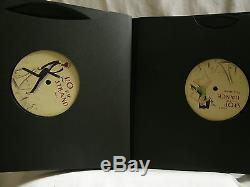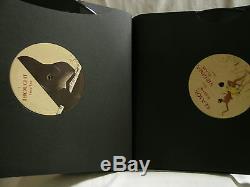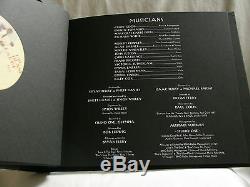 Signed/autographed numbered limited folio edition. UK import 6 10 vinyl singles. The Vinyl Factory 53800759 2. VINYL: NM a few very light sleeve scuffs. Each of the 500 copies hand-signed and numbered by Bryan Ferry. Hand-numbered # 75 of 500. Bryan Ferry'The Jazz Age. "Every note is perfectly placed, the sense of bygone breeziness lovingly accurate" - The Observer. Limited Edition details: 500 copies worldwide, each hand signed and numbered by Bryan Ferry Hardback Folio with exclusive screen printed artwork by renowned French poster artist Paul Colin Six x 10 vinyl records, each with bespoke label artwork Essay and credits screen printed on folio, outer spine silver foiled. Martin Wheatley (guitar, banjo); Victoria Sutherland, Emma Parker (violin); Sarah Chapman, Emma Owens (viola); Katy Cox (cello); Richard White (clarinet, bass clarinet, alto saxophone, bass saxophone); Robert Fowler (clarinet, tenor saxophone); Alan Barnes (clarinet, baritone saxophone); Enrico Tomasso (trumpet, cornet); Malcolm Earle Smith (trombone); Colin Good (piano); Chris Laurence (double bass); John Sutton (drums); Frank Ricotti (percussion). The Jazz Age finds Ferry covering himself in radical fashion: he doesn't sing. He is credited as co-producer (with Rhett Davies) and director. The Jazz Age celebrates Ferry's 40th anniversary in music by re-recording some of his classic tunes -- from the 1972 Roxy Music album to 2010's Olympia -- inspired by the sounds of'20s jazz. Ferry's looked deeply into the past before -- 1999's As Time Goes By paid tribute to the music of the'30s, an album of sung standards from the era -- but not his own. This set was performed by many of the same British jazz musicians who performed on that record under the musical direction of Colin Good. Musically, Ferry and these musicians drew on the influences of Louis Armstrong's Hot Sevens, Duke Ellington's Orchestra, Bix Beiderbecke's Wolverines, and the Original Dixieland Jazz Band.
But they also found inspiration in the heady historical era before 1929 detailed so intensely in the novels of F. Scott Fitzgerald, Michael Arlen, and Ernest Hemingway.
All 13 of these tunes have been wildly revamped and offer interesting textures: a bass clarinet and baritone saxophone are used instead of a double bass to carry the bottom end, but the music here is played so well, it doesn't feel gimmicky. All of the original melodies have been left intact, though tempos are often completely reset. The sprightly "Do the Strand" features piano, brass, reeds, banjo, and drums all competing for dominance (they were recorded live in the studio), and swings hard.
"Love Is the Drug" is played as a moaning, bluesy dirge, while "Avalon" retains its sense of melancholy even as clarinets, trumpets, and piano commingle in a midtempo dialogue on different aspects of the melody. "Virginia Plain" is a fingerpopping dancefloor jaunt that recalls flappers doing the Lindy Hop.
Given that Ferry doesn't sing on The Jazz Age, the appeal for casual fans is debatable. But for the faithful, trad-jazz heads, and open-minded listeners, the musical quality -- from expert arrangements, virtuosic playing, and the brilliant concept -- offer something wholly different and rewarding. The Vinyl Factory is pleased to unveil a luxurious 10 hardback folio limited edition of Bryan Ferry's new album, The Jazz Age. Fitting of the era, this bespoke hand-crafted release consists of six 10 vinyl records, housed in a hardback folio with exclusive screen printed artwork - each of the 500 copies hand-signed and numbered by Bryan Ferry. If there was ever a musical icon and a decade destined to come together it is Bryan Ferry and the Roaring Twenties.
The artist as creative powerhouse with a dazzling career of endless surprise, delight and innovation, and the decade - a time of modernity, decadence and bright young things - all driven on by the thrill of it all. So what better way to celebrate and mark the 40th year anniversary of Ferry's incredible career as a singer and songwriter, than by rearranging his own compositions and have them performed in a 1920's style by his very own Jazz Orchestra? The 13 songs have been chosen from 11 albums, from his very first release Roxy Music (1972) to his recent solo record Olympia (2010). It began as an idea, fuelled by Ferry's fascination of that time between the wars known as "The Jazz Age".
He decided the songs were to be all completely instrumental reinterpretations. A lot of the music I listen to nowadays is instrumental, " Ferry explains "and I wanted to let my songs have a different life, a life without words. Ferry put together his very own jazz orchestra comprised of many of the great British jazz players from his past tribute to the 1930s, the album As Time Goes By - including his long-term musical director Colin Good, with whom Ferry worked closely on these new arrangements. Six x 10 Vinyl Tracklisting. Love Is The Drug Vinyl 2.
Just Like You Vinyl 3. The Bogus Man Vinyl 4.
This Is Tomorrow Vinyl 5. We can NOT bear responsibility for packages lost or damaged by the Postal System. If you do not agree with this Please DO NOT.
Grading is visual only unless otherwise stated. I go by Goldmine standards and try to be conservative. I will play grade on certain items only - it is just impossible for me to play grade everything I put on EB. MINT means factory sealed, never opened or played.
NM is opened but in visually brand new, out-of-the-packaging clean condition. Its a grade above VG. + and below Near Mint - it does not imply perfect. Gy Scratches are feeler type and Scuffs are just cosmetic and.
And due to the nature of sound recorded products that can be easily copied. If item is truly defective the.
Replaced with First Class International (FCI) which is suppose. Also, FCI cannot be tracked. Ty if they select FCI. Any package over 4 pounds.
Media and Priority still in effect in US. All other combinations are actual weight and can only be provided after packing.
The item "BRYAN FERRY ORCHESTRA The Jazz Age 6 vinyl 10 discs LP SIGNED autographed Roxy" is in sale since Thursday, September 17, 2015. This item is in the category "Music\Records". The seller is "ward1935" and is located in South Plainfield, New Jersey.
This item can be shipped worldwide.
Style: Big Band/Swing
Duration: Box Set
Record Size: 10"
Genre: Jazz
Special Attributes: Signed / Autographed